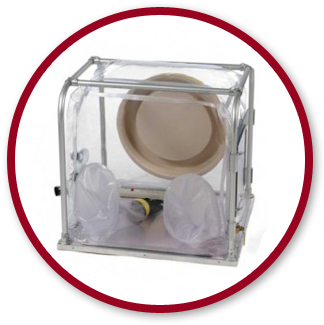 Vinyl Glove Boxes
These flexible vinyl glove boxes are a simple low-cost alternative to rigid glove boxes for sealed environments or simple containment applications. Equipped with gas inlet and automatic pressure relief system the vinyl chamber can easily create a low oxygen or dry gas environment.
PVC construction — Made of heavy-duty, flexible PVC mounted on a rigid base with aluminum support frame.
Radio-frequency welded seams — For a one-piece bag that will withstand years of service.
Optically clear vinyl — Increases operator vision
Flexible gloves and ports for increased operator ergonomics
Custom sizes and configurations
More than 20 different options are also available to allow you to adapt these simple unit that can be purged with any inert gas through the gas inlet valve and the automatic pressure relief valve, standard on all vinyl glove boxes.
Aluminum  glove boxes and rigid polymer glove boxes are also available.
Vinyl Glove Box Details
All Basic Vinyl Glove Boxes are supplied with the following:
Latex gloves in size large (other sizes available on request*)
Inlet ball valve
Pressure relief system (removable for simple containment operations)
Side door or optional airlock transfer chamber connection
Aluminum support frame with padded base
Internal 6-outlet power supply
Two feed-thru adapters with rubber stopper (1.5″/3.8 cm diameter)
Round entry port (20″/50.8 cm)
* The latex gloves are placed over a plastic cuff and then placed in the permanently attached sleeves and taped in place. This system provides a means of replacing damaged gloves.  Additional glove ports can be ordered mounted in most positions if requested at the time of purchase.
Construction
The glove box front is made of 20 mil pressed polished clear vinyl with 40 mil vinyl bottom extending 2″ (51 mm) up on all sides. It is mounted on a 3/4″ (19 mm) plywood base covered with a 1/4″ (6 mm) foam pad and heavy vinyl. A 1″ (25 mm) aluminum tubular frame supports the glove box. All glove boxes come with a large equipment entry on the rear of the unit. This entrance consists of a 20″ (50 cm) entry cap that is taped in place after installing large equipment in the glove box.
Glove ports, 10″ x 13″ oval opening (25 x 33 cm) on 19″ (48 cm) centers, are constructed of a special highly flexible vinyl frosted to prevent cracking and gas leakage at bend points.
Two 1.5″ (38 mm) I.D. feed-thrus are attached for wiring, tubing, or cord input. (Additional feed-thrus may be ordered at the time of purchase.)
Glove Box Description
Chamber Dimensions
(L x D x H)
Total Lab Footprint
(Base Dims W x D)
Mini Vinyl Glove Box
30 x 28 x 26 in
47 x 31
76 x 71 x 66 cm
120 x 79
One Person Glove Box
44 x 28 x 26 in
62 x 31 in
111 x 71 x 66 cm
155 x 179 cm
Two Person Glove Box
78 x 28 x 26 in
95 x 31 in
198 x 71 x 66 cm
242 x 179 cm
Side Door Dimensions
12 x 12 in
30 x 30 cm
Equipment Entry Port
20 in
50 cm
Gas Inlet Connection
¼ in vinyl tubing
6 mm vinyl tubing
Feed Thru Adapter
1.5 in
3.81 cm
In addition to R&D and university research laboratory applications, Coy controlled environment glove boxes have found use in other glove box applications including:
Micro welding
Dry atmosphere storage
Electronic equipment assembly
Clean room glove box
Containment glove box
Dry packaging
Controlled humidity applications
Chemical mixing
Inert gas purge
Oxygen control
Humidity control
Dry weighing
Below are common accessories associated with the Coy Vinyl Basic Glove Boxes.
Airlock for sample transfer
Atmosphere filtration system (HEPA)
Oxygen monitor or control system
Humidity monitor or control system
CO2 control and monitoring system
Desiccant drying system
Feed-thru ports (for cords and tubing pass thru to chamber interior)
Custom sizing (contact Coy for details)
Flow meters for precise gas purge control
Microscope port
Temperature control options (chiller &/or heaters)